Winter Is Finally Here In Iowa, Make Sure You're Ready
Ok guys, this is a big deal here.  We all drive, we also all live in the great Hawkeye (and Cyclone) state of I-O-W-A!  Its important to prepare your vehicle for the cold weather ahead.  So we took it upon ourselves to put together this Vehicle Winter Survival Kit for you, because we love you, and we don't want to receive a call that you're stranded and we need to come pick you up! 🙂
(which by the way we are more than happy to do any time–put our number in your cell phone if this ever happens! 712-469-3383.)
Anyways, we also want you to know what you should look at and if there is a problem, what you can do about it.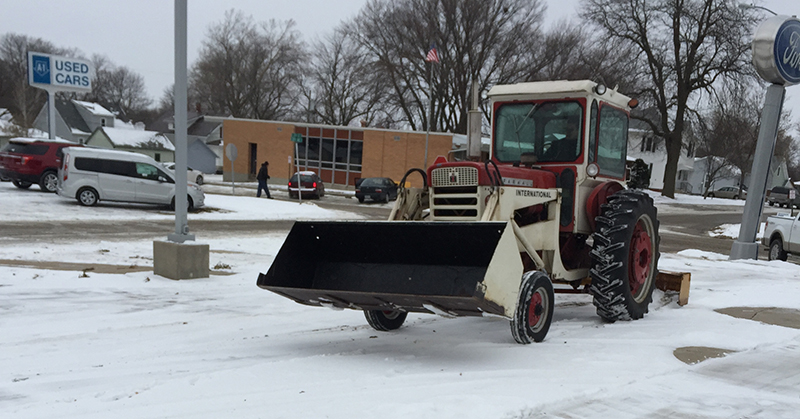 So, without further ado….
You can avoid many dangerous winter travel problems by planning ahead. Make sure to service your vehicle as often as the manufacturer recommends. In addition, every winter, do the following:
Have the radiator system serviced or check the antifreeze level yourself with an antifreeze tester. Add antifreeze as needed.
Replace windshield-wiper fluid with a wintertime mixture.
Replace any worn tires, make sure the tires have adequate tread, and check the air pressure in the tires.
Have maintenance service on your vehicle as recommended.
Also its good to note that during winter, keep the gas tank near full to help avoid ice in the tank and fuel lines.
Want To Do It Yourself?
When our mechanics at Rost Motor winterize your vehicle we check the following:
Strength of the antifreeze to -35 degrees
Replace Windshield washer fluid with winter mixture
Check Heater and defroster are working properly
Check the exhaust systems for leaks
Check tire pressures and tire wear
Check all belts and hoses
Test cold cranking amps on the battery–should be close to what is listed on the battery
Change oil and filter–if needed, which includes checking of and topping off of fluid levels
We hope this checklist has been helpful and useful.  Feel free to print this page and check items off as you do them yourself!
What would you add that we missed or what could we have covered in more detail?  Let us know!

Schedule your service online or dial 712-469-3383 and ask for Lou or Randy